Australian Rollers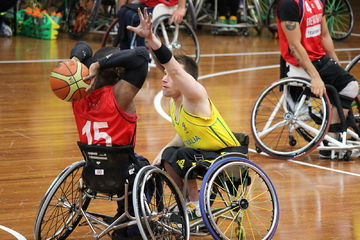 A disappointing finish to their Rio campaign saw Australia finish the 2016 Paralympics in sixth place.The world champions went into the tournament with high hopes, and looked in the running for gold following an impressive start to the tournament.The opening game saw a dominant display from Australia in a crushing 70-50 win over the Netherlands.A comeback victory over Turkey followed, with the Rollers overcoming a six-point deficit in the final period to eventually salute 62-60.
Reigning Paralympic champions Canada were next to fall victim to what was shaping as an Australian juggernaut,
the Rollers maintaining their perfect start with a hard-fought 78-53 victory in a bruising affair against the
North Americans.
It was mostly downhill from there, however, as comprar carrera obstaculos hinchables baratos Ben Ettridge's men lost their momentum at the tail end of a
grueling schedule.
Just 16 hours after accounting for the Canadians, Australia had to back up against eventual
silver medalists Spain in a match where fatigue clearly played a part, the Spaniards too
good in a 75-64 win.
Normal order looked to have been restored in the next match as Australia bounced back to
defeat Japan 68-55, rounding out the group stage with a 4-1 record.
That put Ettridge's side into a quarter-final clash against Great Britain, which looked to be going
according to plan as the Australians bounced their way to two-point lead at half-time.
But the tables were turned after the main break, a 45-20 demolition job from the Brits saw them race
away 74-51 winners to end Australia's gold medal hopes.